AFFORDABLE ART UK
ICAS – Vilas Fine Art affordable art collection covers the medium of paintings, study drawing, sculptures and pottery all valued below the price of £2000


Affordable art collection is available on website for limited period.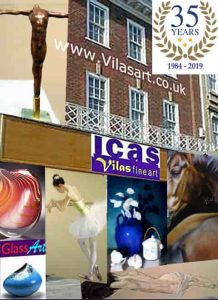 More affordable art collection will be included, as we add new artists to our ICAS gallery portfolio .
Click HERE to Request more info
NEW ICAS ART MAGAZINE 2019

YOUR PULSE INTO THE WORLD OF INTERNATIONAL ARTS
The magazine reviews the great master artists: LEONARDO DA VINCI; RODIN & DEGAS.
Our issues feature sensational new stories, life articles, with exclusive VIP interviews, following the careers of top leading artists from around the world.
Click & download our free complimentary copy
Click to view ICAS Gallery artists exhibitions: